Oscar Wilde's visit to Twickenham in 1881
By Jeremy Hamilton-Miller
First published in The Twickenham Tribune 25/11/16 Edition 0003
On 19 November 1881, the Queen's Hall on King Street was the venue for the debut stage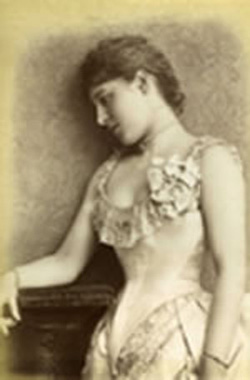 performance of Lillie (often spelled Lily) Langtry.  She was the famous "Jersey Lily", between 1877 and 1880 a mistress of the Prince of Wales, later Edward VII.  Lillie was stage trained by Henrietta Labouchere, whose husband Henri, the MP for Northampton, had a weekend retreat in Pope's Villa, that later became their main home[see footnote].
The second part of the evening's programme was a short play "A Fair Encounter", starring Henrietta, with a smaller part for her protegée Lillie.    It is remarkable that only one month after this, her first acting experience, Lillie performed on the London stage in "She Stoops to Conquer".
Oscar Wilde was a great admirer and confidant of Lillie, and dedicated one of his poems "The New Helen" to her, comparing her beauty to that of Helen of Troy.  The event at The Queen's Hall that night was a sparkling affair, under the patronage of the Duchess of Teck, to raise money for the newly-opened St John's Hospital in Amyand Park Road.  The great and the good of Twickenham attended what was described in the local Press as "Grand Dramatic Performance – a  brilliant success".  Oscar's appearance was also brilliant, recorded as "the whiteness of whose cravat, plastron and waitcoat was relieved by a kerchief of sunflower hue, thrust with cunning carelessness into the last-named garment".  The popularity of the event was evident, as it was "computed by the police that at least 150 carriages were in waiting at the close of the performance".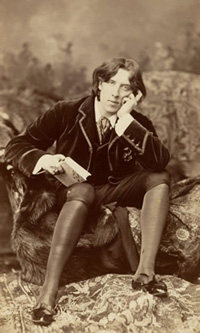 The Queen's Hall was also the venue for other important events, such as the 1888 exhibition to mark the bicentenary of Pope, and the visit of the Comtesse de Paris in 1889;  its main use was for local events.
There are current plans for its redevelopment (approved in January 2014);  these incorporate provision for the frieze (illustrated on page 2 of edition 001) to be preserved.  No action has yet been taken, and as the whole block of King Street nos 3 – 33 is now up for sale, it seems unlikely that anything will happen soon.
Footnote:  although Henri Labouchere had lived with Henrietta since about 1868 and described her as his wife, they were not married until 1887.  This was quite a scandal in Victorian times, but it is interesting to note that Henrietta described her occupation as "concubine" in the 1881 Census.  In 1891 they lived at Pope's Villa, with seven servants and a gardener.