Keeping our river safe
By Simon Griffiths, founder and publisher of H2Open Magazine (www.h2openmagazine.com)
First published in The Twickenham Tribune 25/11/16 Edition 0003
Andy Butterfield talks about his work as an RNLI volunteer with the Teddington Lifeboat crew

The Royal National Lifeboat Institution (RNLI) is staffed primarily by volunteers. While it's tagline is "The Charity that Saves Lives at Sea", it also works inland. In fact, it's busiest station is Tower, on the Thames at Victoria Embankment in Central London, which receives around 500 call outs (or shouts) per year. The busiest coastal station is Poole, which receives around 180 shouts per year. Teddington station which is responsible for the stretch of river through Twickenham, had 80 last year.

Andy Butterfield has been an RNLI volunteer for 13 years and is now one of the helms at Teddington RNLI Station. As a local resident he's a keen user of the river and the surrounding environment. He frequently crosses the lock to walk his dog along the riverside path in Ham and, in the summer, he's been known to swim in the river or stand up paddle board along it.
The work at an inland station such as Teddington naturally differs from what might be traditionally seen as the role of the lifeboat crew.

"Whilst we do get boat-related incidents at Teddington (typically break downs or boats running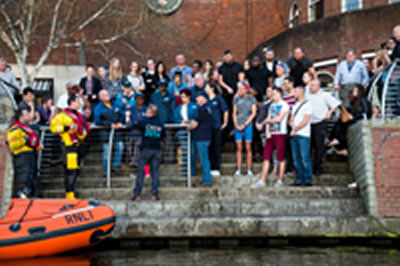 out of fuel), these are far fewer that you would get in a coastal station," he says. "On the river, we are often called to alcohol and mental health related incidents. These typically involve jumping or the threat of people jumping from bridges or sometimes people who have gone missing and were last seen 'heading towards the river'. Unfortunately, we also get too many young men swimming when drunk and then drowning."

Due to alcohol being linked to the most incidents we get as a station we have launched a local campaign, in conjunction with the RNLI's national Respect the Water* campaign (see below for details), to provide throw bags to riverside pubs, bars and businesses in the area. To accompany this, we provide training at least twice a year to ensure the staff are trained in how to use the bags while another charity provides basic first aid training. One member of the security team at the Viper Rooms in Kingston has used his throw bags to save at least four lives since we launched our campaign. The RNLI are now expanding the throw line campaign at eight more pilot locations.
In addition to the throw line campaign the crew also give up their time to travel around local schools educating large numbers of children on the dangers of water, but more importantly on how to enjoy the water safely.

"Personally, I have long been interested in why many people who live along the river, including local kids, swim perfectly happily without any problems whereas other people get into difficulties and, sadly, sometimes drown. The main reason appears to be linked to alcohol," says Andrew.
"People who have been drinking alcohol are more susceptible to drowning for a number of reasons. For example, they may set unrealistic ambitions such as attempting to swim fully clothed across a fast flowing cold river in the dark. In addition, their physical abilities and coordination will be impaired."

Drowning can occur very quickly, explains Andrew. Your average Saturday night reveler is probably unaware of the immediate disabling effects of cold water shock and that it may induce an involuntary gasp while their head is underwater. Swim failure also happens more quickly to people who've been drinking.

Peripheral vasoconstriction is a normal bodily defense response that restricts blood flow to the extremities in cold water in order to preserve heat and to maintain the blood and oxygen supply to the vital organs, especially the brain. However, alcohol does the opposite and tends to dilate blood vessels. This has the perverse effect of simultaneously making you feel warmer (as most heat sensors are near the surface of the skin) while actually lowering the temperature of your core, and hence your ability to coordinate your movements and swim.

"While I'm not against anyone enjoying the river or a beer, I strongly recommend not swimming while under the influence of alcohol."

The best and worst of it
Volunteering can be hard work, and you need to be prepared for call outs in the middle of the night and ensuring your availability at certain times in case of an incident. However, Andrew is incredibly enthusiastic about the job.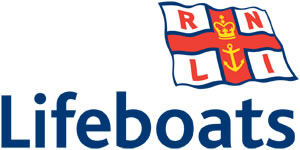 "The best parts of being volunteer crew include being part of an amazing team of like-minded local people, being trained by the RNLI and the station to an exceptional standard across all relevant areas including boat handling, first aid, radio, local knowledge, environmental effects and more and to have a positive impact on the lives of those who live, work and enjoy the river and riverside," he says.

But it's not always enjoyable.
"The worse part of the role of being crew is recovering the bodies of those that, for whatever reason, have passed away in the river. Tragically, with the exception of those with excess alcohol in them, the vast majority of people we recover had intended to die."

RNLI crew are typically aged 17 to 55. Volunteers need to be physically fit, live or work near a station and, most importantly, they must be available to respond to the pager. Every station wants a good mix of men and women, but I believe few have this, so more women are always welcome. There is no need to appear with a range of skills as all training is provided. However, any boating or medical background is always a bonus.
More information is available here: https://volunteering.rnli.org/join-the-crew-2051.html

Respect the Water
Respect the Water is the RNLI's drowning prevention campaign. It highlights the risks of water to help you avoid them and keep safe. It includes adverts in cinemas, on billboards, on the radio and online across the UK and the Republic of Ireland.
The message from the RNLI is: "We want you to enjoy the water, but also to recognise its dangers and never underestimate its power. Half of those who die at the coast never even intended to get wet. It's easier than you think to slip, fall or get into trouble in the water, so get informed and get involved. The more people are aware of the risks, the better they can protect themselves around the water."