TWICKERSEAL
By Teresa Read
First published in The Twickenham Tribune 17/02/17 Edition 0015

There was a time when it was thought that marine mammals could not survive in the Thames and it was declared biologically dead but sixty years on and the situation has changed dramatically.
The report in the week of a seal at Richmond Lock – on the Twickenham side – is just one sighting of many which have been logged by the monitoring team of the Zoological Society of London (ZSL).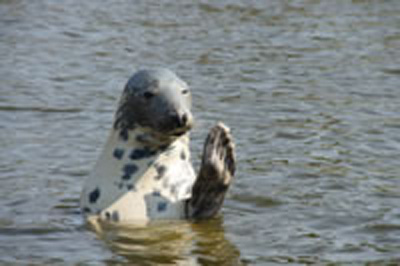 Today, the Tidal Thames is home to harbour seals, grey seals, harbour porpoises and pilot whales.
So far this year there have been reports of sightings of seventeen harbour seals, twenty-three grey seals and a harbour porpoise.
Seals can be found in greater numbers in the Thames Estuary. Canary Wharf and the Isle of Dogs are favourite places to spot seals but they have been seen as far up the river at Teddington Lock.
ZSL is always keen to encourage people to send in their sightings and/or volunteer their time as 'citizen scientists' alongside our Thames conservation team, not just for seals but also other activities including eel monitoring
A map of sightings can be found on the ZSL website: http://sites.zsl.org/inthethames