Being kind to your mind during the pandemic
To mark this year's Mental Health Awareness Week (18 May to 24 May 2020), residents who are feeling low and anxious around the lockdown are reminded that there are a number of free services that can help.
In response to the coronavirus pandemic, this year's Mental Health Awareness Week theme is 'kindness'. Whilst there have been countless acts of incredible kindness shown across the borough to help with COVID-19, being kind to yourself is also important. A way of doing this is to get support for your mental health if you need it.
Below is a list of support services and resources available to residents:
Evidence suggests there are five easy steps you can take to help improve your mental wellbeing. These are to connect with others, be active, keep learning, take notice and to give. For more information on easy ways of how to do this, go to www.richmond.gov.uk/coronavirus_and_your_wellbeing

If you are concerned about children and young people's mental health, a range of services and guidance are available from Richmond and Kingston Safeguarding Partnership, including access to online counselling. View the Richmond and Kingston Safeguarding Partnership guidance.

A new online service Good Thinking is a free virtual resource provided by Thrive London, Public Health England and the NHS. It aims to provide digital mental wellbeing support for London through online quizzes, workshops, podcasts and activities. Visit the Good Thinking website.

Richmond Wellbeing Service offers a range of free and confidential talking therapies and specialist support for adults. You can visit the Richmond Wellbeing Service website or call on 020 8548 5550.

RB Mind's Helpline offers a safe place where you can speak to someone who will listen, offer you support and guide you to further help if needed. The service is for anyone over 18 years old living in the borough. The emotional support line is open Monday to Friday from 9am to 10pm, Saturday from 2pm to 10pm and Sunday 2pm to 8pm. Call 0203 137 9590.

If you need mental health support in a crisis, you can call the South West London and St George's Mental Health NHS Trust 24/7 Mental Health Support Line on 0800 028 8000. It is open to everyone and if required you can then visit the 24/7 Orchid Mental Health Emergency Service at Springfield Hospital in Tooting, London, to receive specialist care from expert mental health professionals.
Cllr Piers Allen, Lead Member for Adult Social Services, Health and Housing, and Chair of the Richmond Health & Wellbeing Board, said:
"We all have mental health, and just like physical health,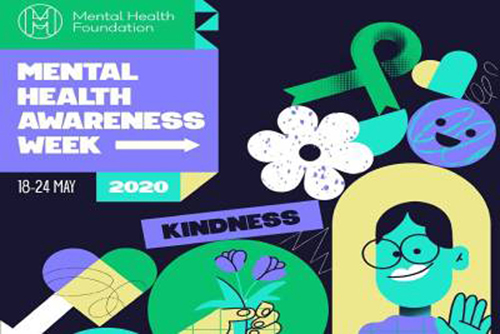 sometimes it's good and sometimes it's not.
"The current crisis and the uncertainty that comes with coronavirus means life for many is particularly difficult right now, and it is bound to affect everyone's mental health. It's perfectly normal to feel anxious and stressed right now, so don't hesitate to seek support.
"This Mental Health Awareness Week is all about kindness – follow the Council on Facebook and Twitter for tips and resources on being kind to ourselves and others this week."
For further information on Mental Health Awareness Week, visit https://www.mentalhealth.org.uk/campaigns/mental-health-awareness-week.
Courtesy London Borough of Richmond upon Thames
View our complete archive of back editions dating from 11th November 2016 HERE