Council will NOT be removing NHS tribute mural in Whitton
The Leader of the Council, Cllr Gareth Roberts, has stepped in to reassure a local business that the mural painted on their shutters which thanks the NHS for all their hard work during the pandemic will not be removed by the Council.

Whitton Tyres on Nelson Road, Whitton commissioned the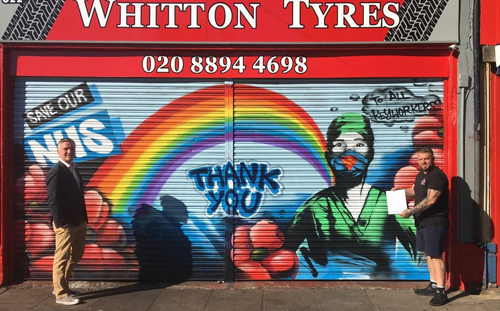 mural to say thanks to local health workers, however following a formal complaint from a resident regarding what they considered to be 'graffiti,' the Council contacted the owner of the business to discuss the complaint and offer the local removal service if required. This led to an outcry on social media.

Cllr Roberts said "This was a rather unfortunate misunderstanding. As a responsive council we take reports of graffiti seriously and if we receive reports of tagging and other antisocial artworks – we do seek to remove them. However, this isn't the case here. We received a complaint. We investigated. And now the case is closed. The mural stays."

In his letter Cllr Roberts made clear that there was no suggestion that the Council would be considering enforcement action to remove the mural. Cllr Roberts also noted that the mural expressed a fine sentiment of support for the NHS which was entirely in keeping with the public mood.
A spokesperson for the Council added: "There have been concerns raised on social media that the council "demanded" the removal of the mural. This is not the case."
Courtesy London Borough of Richmond upon Thames
View our complete archive of back editions dating from 11th November 2016 HERE