Part 176
THE WONDER OF WOOLIES!
Originally published in Edition 181
Today we will have a look at F.W. Woolworth & Co. Ltd. I'm pretty sure that most of our readers will be familiar with the store which had at least 6 branches in the Tribune's catchment area of the London Borough of Richmond upon Thames at its peak.
Because the store nearly always grabbed a prime High Street location it often appeared on postcards between 1909 when the first Woolworths UK branch opened in Liverpool on 5 November with a performance by a full orchestra, circus acts and fireworks and almost one hundred years later in 2008 when it disappeared forever as part of the retail merry-go-round we have seen in the last 30 years or so.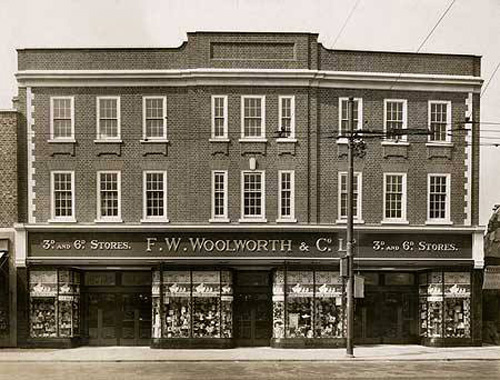 We will focus on the Twickenham branch at 18 – 22 King Street this week purely because I have some postcards that feature this branch. Woolworths opened in Twickenham in 1928 and was numbered store no. 333. It stayed at that same building in King Street for 80 years! It was a large 2-storey purpose-built store. Our first postcard shows the store in 1938 and is a classic shop frontage of the period. As per the fascia advertising, Woolworths knew its market and the 3d and 6d prices were flagged and advertised for decades.
As a young lad in the 60's it was a real treat to go shopping with mum on a Saturday and be allowed to buy a toy soldier or cowboy or red indian for about sixpence (two and a half pence in today's money).
We then move into the 1960's and I'm sure many of us used the café in Woolworths on a Saturday morning after buying the latest Beatles single at the record counter for 6 shillings and eight pence (6s/8d). A special treat was to stop at the pick and mix sweet counter which was quite a retail innovation in its day.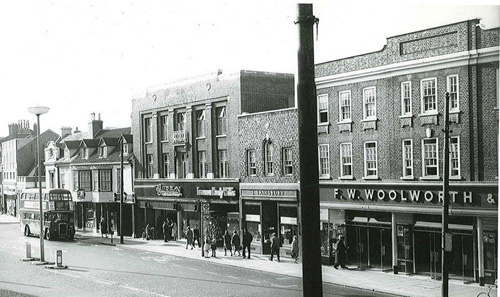 Our second postcard is a real piece of High Street history and this photo was probably taken from a first floor window at Barclays Bank and shows Woolworths position three shops away from the George public house that is still there today.
The interesting thing here are the three shops between them. Menswear chain Burtons is next to the pub with shoe chain Freeman Hardy and Willis next to it. Between this shoe shop and Woolworths is none other than J. Sainsburys. I remember this shop so well in the 50's with the staff wearing blue and white striped aprons and straw boater hats. The shop was tiled inside and out and had liberal sprinklings of sawdust on the floor. Essentially a butchers that sold eggs and butter, cheese was cut to order from huge rounds of cheddar. They also sold broken biscuits I recall. Each Sainsburys shop was designed with a wooden sentry box at the rear of the store with a lady sitting inside who controlled the cash and acted as both the till and change giver so that the people behind the counter didn't have to touch dirty coinage while handling food. Our younger readers may not know that this was still 20 odd years before credit cards were invented and so our pockets and purses were full of heavy pre-decimal coinage. Notice I called Sainsbury's a shop rather than a supermarket. That's exactly what it was. Supermarkets came later in the mid to late sixties.
Back to Woolworths who, as we entered the seventies now had over 800 stores in the UK but were facing serious competition from the supermarkets which were bigger and often out of town. The daily high street shop had to change as more and more women went out to work and shopping was done once a week by car on a Saturday. Woolworths had lost their retail dominance but continued on for another 20 years or so.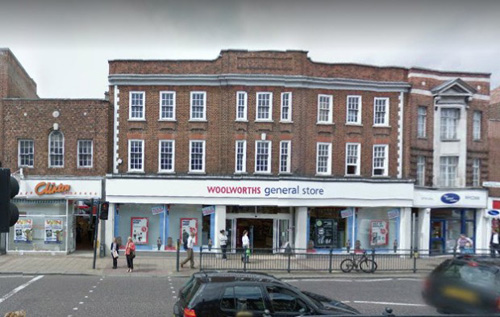 In the late 1990s Woolworths went through a change of direction and decided to turn hundreds of its branches into a General Store with a new branding. Twickenham was one of them. Please see image 3 which is a photograph of Woolworths in 2008. Clinton cards is now next door where once Sainsbury's had been.
It didn't really work and the General Stores were turned back into normal Woolworths stores in the early 2000s, but Twickenham branch kept its General Store sign right up until the end of trading in December 2008. It was all over and what had once been one of the most profitable high street based chain stores disappeared completely in the UK.
The King Street premises became some sort of Clearance Store for smoke-damaged furniture for a while but now it is a Poundland which in many ways is probably the Woolies of today. To bring us up to date, image number 4 shows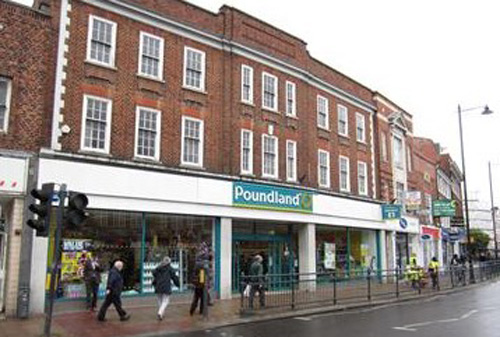 Poundland pretty much as it is now. Once again the brand name doesn't sit comfortably with its mission statement - 'Poundland is a one price retailer selling a wide range of household goods, games, gifts, DIY materials and tools and confectionery.' Today you will find a range of products for sale at a higher price than a pound. So history has repeated itself in this fine old building at 18-22 King Street.

We will have a look at some of the other local Woolworth branches in future issues. If you have any postcards or photos of their stores in Whitton, Teddington, Richmond or East Sheen that we can use, please let me know.
History can be as much about memories as bricks and mortar so why not send your memories of Woolworth stores in the borough to the Tribune's letters page. Did you work at any of the local branches? Have you got a memorable story? Which local celebrities did you spot shopping at Woolies? We will publish a selection next week and the writer of the most interesting letter will win a pound to spend at Poundland! Get writing and send by email to: - letters@twickenhamtribune.com or to me at the email address below.
With many of us confined to home at present it may be that you are using the time to tidy a few drawers or have a bit of a clear-out. If you trip over any old postcards, old envelopes with stamps on, or photograph albums that you would consider parting with, I'd be very interested in arranging to see them. Please contact me on 07875 578398 or by email at alanwinter192@hotmail.com I am happy to pay cash for anything like that which I find of interest. So don't throw old postcards etc. in the skip or recycling bins. Show them to me first! Thanks, stay safe and well.
The following letters were received from readers and published in Editions 182 and 183
I enjoyed your Tribune article about Woolworths.
You mentioned buying 45 rpm records priced at 6s 8d, well you might remember that Woolworths had their own 'Embassy' record label.
An Embassy single cost 4s 6d and had a re-recording of a current hit on each side, so you got two popular songs for a bargain price.
The Embassy producers had to work very fast in order to record their sound-alike singers, then press and issue the discs while the hits were still popular.
The Embassy single I have is 'Rubber Ball' and 'You're Sixteen'.

Best wishes
Steve White, Teddington

Hi Alan,
I really enjoyed your article this week. It took me back many years. At around ten years old I was trusted to get the shopping. I would take my brother's old pushchair and off I went. Woolworth's was always a treat as I would buy a pound of broken biscuits for us for the week. I can't remember how much that cost - pennies - probably, but I remember the tins that lined the counter that the biscuits would be chosen from. I may have left the shop with a pound of biscuits, but buy the time I arrived back home with my wares usually half of them would be gone - eaten on the way home!
I also remember a few years later when I was 15, going to work as a Saturday girl in Woolworth in Edgware. To my knowledge this branch was the very first to be converted to automated till machines and I was chosen to serve at one of them, so I sort of made history!
Happy days
Avril Brownhall, Ohio Nebraska U.S.A.
Enjoyed your piece in the Tribune today. I remember the store well in the 60's too when I first came to Twickenham. What has always intrigued me is what went on in the upper two floors! I have no recollection that either was a sales floor so presumably both were just used as very substantial stockrooms? Perhaps somebody who worked there will be in touch with you and further information might be forthcoming….. I assume none of the space was designed as residential.
Best
David Cornwell, Strawberry Hill
Alan Winter answers -
David
Memories play tricks but I seem to recall that the cafe was upstairs on the first floor and that most of the rest of the area sold clothing. I also seem to remember the "Ladybird" brand featuring strongly. Presumably the offices were upstairs somewhere too. Perhaps someone who worked there then can help us?

Dear Sir,
I thought I would add my bit of experience of working at Woolies in Twickenham when I was 15 back in 1960. Like the other lady I was the only Saturday girl who could work the electronic till there. I was working with a much older lady called Miss Wheeler on the pots and pans counter which wasn't so much of a counter as we were spread along the right hand side of the shop and I seem to have spent my time crossing the shop to go up the stairs to the stock room which covered the whole of the first floor. There was no cafe up there then. I earned the princely sum of 15s (75p)
Brenda Whittaker
Alan Winter replies:
Thanks Brenda. That confirms that the upper floor at Twickenham was not used in the early 60s for either the cafeteria or for retail purposes. We will look at some of the other Woolworth branches which traded in this Borough in future columns. Now is a good time to send me your memories and anecdotes of branches at Woolworths at Whitton, Richmond, Teddington and East Sheen etc. If you happen to have a postcard showing these stores - even better!
View our complete archive of back editions dating from 11th November 2016 HERE