Update: Hermes too swift for planning?
The Mystery of Who Arranged the Installation of the Hermes Cabinet at Strawberry Hill Station
On 24th May the Tribune published an article about the large Hermes metal box, which suddenly appeared outside the entrance to Strawberry Hill Station. (View article HERE)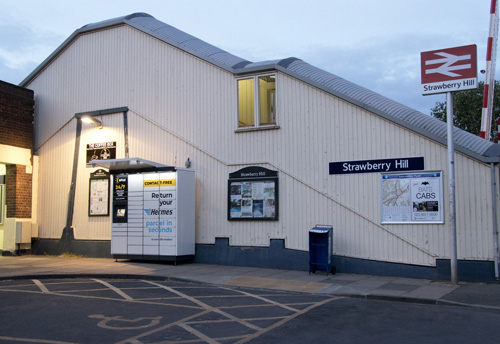 A search of the LBRuT Planning site did not reveal a planning application for a delivery/returns cabinet by Hermes, or their agents, outside Strawberry Hill Station.
Following the Tribune's investigation, the London Borough of Richmond upon Thames has opened an enforcement case in connection with the large metal cabinet, which last week appeared on the footpath adjacent to a disabled parking bay and the entrance/exit of Strawberry Hill station.
A senior planning officer told the Tribune "we have decided to open an enforcement case in connection with this".
A local resident said that she was "surprised that such a large company as Hermes would install such an obstruction in an area which is used by so many people during the day".
Photo by Berkley Driscoll
View our complete archive of back editions dating from 11th November 2016 HERE