Hermes too swift for planning?
Local residents are aghast at the large Hermes metal box - for collection and returns - which has suddenly appeared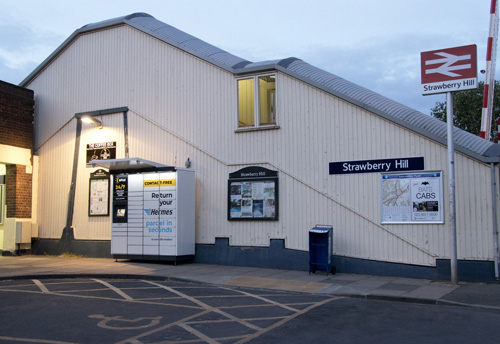 extremely close to the entrance to Strawberry Hill Station and next to a disabled parking bay. The useable footpath has become very narrow pushing pedestrians into the parking bay. A quick inspection of the area will show LBRuT planning inspectors of the restricted access for pedestrians.
Large Hermes collection cabinets, also for the return of parcels, are becoming an unsightly part of the street furniture, but as one concerned resident asked "Do they need planning permission - and what about advertising consent?".
Cllr Michael Butlin, Ward Councillor for South Twickenham, was reported to have said that he did not know whether the large cabinet had planning permission to be on the public footpath, but he would be investigating the matter.
A local resident who lives nearby commented "This area of the Strawberry Hill village is becoming very cluttered and unsightly. It is time that the Council looked into this. It used to be such a quiet spot to sit and relax".
A planning enquiry by the Tribune has not as yet revealed any permissions, either for the structure or for advertising consent.
Photo by Berkley Driscoll
View our complete archive of back editions dating from 11th November 2016 HERE