Businesses and Council agree 'Space to Shop' scheme for Church Street
Church Street in Twickenham will become the borough's first 'Space to Shop' scheme from Monday 22 June 2020, where pedestrianisation of the road will allow for residents and visitors to maintain social distancing, while still enjoying the retail and hospitality offerings of one of Twickenham's landmark locations.
As part of the Council's Post-COVID Transport Action Plan, a series of rapid temporary measures are being installed on some of the borough's roads, outside local schools and in key shopping areas around the borough.
As part of these emerging measures, from Monday 22 June 2020, the Council will make changes that ensure Church Street, between King Street and Church Lane is only open to pedestrians. The restrictions of vehicle movements will apply every day, between 10am and Midnight.
The additional pedestrian space made available through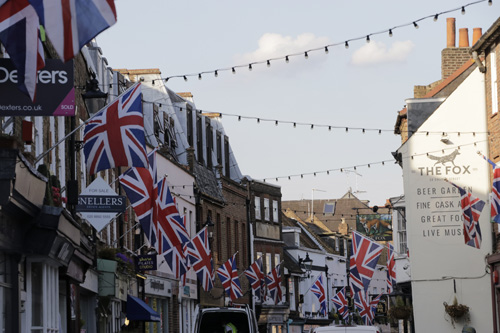 these changes, will help facilitate 2-metre social distancing requirements for visitors and provides important space to allow for potential business activity in the areas immediately outside various business premises.
Deliveries for local businesses can still continue up to 10am each day. The eight short stay parking spaces on Church Street will be temporarily converted to loading bays to facilitate deliveries and these will operate midnight to 10am every day.
Over the next few weeks and months, further plans around other high streets will be announced.
Cllr Alexander Ehmann, Chair of the Transport and Air Quality Services Committee, said:
"I am delighted that we've been able to work together with the fabulous local businesses on our iconic, Church Street in Twickenham. I know what a difference it will make to our residents, knowing that when they come to visit they'll have the Space to Shop.  
"From Monday 22 June, visitors can come and enjoy what this welcoming street has to offer and do so with the comfort of being able to socially distance.  We understand that this change has the support of the majority of businesses in Church Street."
Bruce Lyons from the Church Street Traders Association, added:
"If COVID-19 gives us nothing but the opportunity to trial pedestrianisation it is perhaps an unexpected dividend. What do they say? 'Every Cloud has a silver lining'. At least social distancing will be possible and perhaps, hopefully, the Community will still be able to enjoy the 'welcome' the traders so enthusiastically provide. Pedestrianisation has often been proposed overtime and out of necessity our little street may be the better for it."
Richmond Council is considering a range of further measures across the borough, including cycling lanes, extending pavements to ensure social distancing, pavement one-way systems etc.
View our complete archive of back editions dating from 11th November 2016 HERE