Man Saved from Physical Attack in Strawberry Hill
Residents Face the Onslaught of Public Urination from drinkers on Twickenham Green
Last night a local resident walking home from the Twickenham Green area was saved from physical attack from four men by a sudden clap of thunder and heavy downpour of torrential rain. The incident occurred as the Strawberry Hill resident took issue with three brawny youths from Twickenham Green urinating in a line against private property, with a friend standing by. The area was already foul smelling from a day's use by thoughtless visitors to the Green.
Local residents in their living rooms and upstairs flats, alerted by loud shouts from the street, rushed out of their homes to help the concerned resident; a 999 call was made.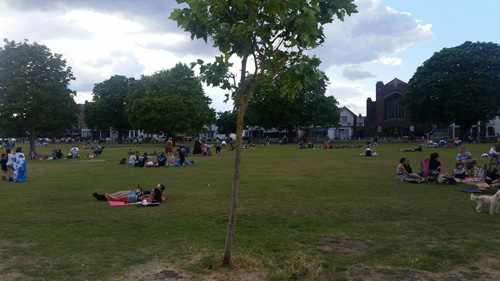 For the last year or so Twickenham Green, which has nearby supermarkets, has become a venue for drinkers. As there are no longer any public toilets - sold off by the Council and now Arthur's - the frequent need to urinate by visitors to Twickenham Green has become a chronic problem for local residents.
Private gardens and residents' outside areas, including the gardens and fence of Holy Trinity Church, are seen as a good place to urinate. Women often seek more privacy in the gardens of Trinity Court whereas the men are not bothered by indecent exposure in full view of the balconies of Gifford Lodge and people walking to and from the Hampton Road.
The LBRuT Council Parks Department, local councillors and the Friends of Twickenham Green have been aware of this situation for over a year but they have not arrived at a workable solution. No, the Council will not reinstate toilets on Twickenham Green, so how long before last night's incident becomes more serious - as it would have done if not for the sudden [Divine?] intervention of the thunderstorm?
The local police, the LBRuT Parks patrol, residents' associations and Friends of Twickenham Green are aware of the situation; the police have advised a log of calls to 101 and 999 from numerous residents. Councillors for South Ward (Strawberry Hill) and West Ward (West Twickenham) have been advised.
Cllr Needham-Watts, who has a responsibility for the Environment, has meetings planned on Monday and Tuesday to discuss the situation with officers.
Revd. Tim Garrett, Vicar of Holy Trinity Church, said:
"I quite understand that people need to answer the call of nature - and in happier times, when we were allowed to, the church opens up its toilet facilities for the community to use e.g. for the May Fair. It is particularly sad that they urinate onto the church building It happens all through the day (on days when it's not raining) – just a few feet away from where my 2 girls are trampolining."
Photo © Berkley Driscoll

View our complete archive of back editions dating from 11th November 2016 HERE