Red Arrows London flypast to welcome French President Emmanuel Macron
On Thursday 18th June the Red Arrows will be accompanied by the Patrouille de France (PAF), the aerobatics demonstration unit of the French Air Force
On Thursday 18th June the Red Arrows will make a spectacular flyover, which will be visible from parts of the London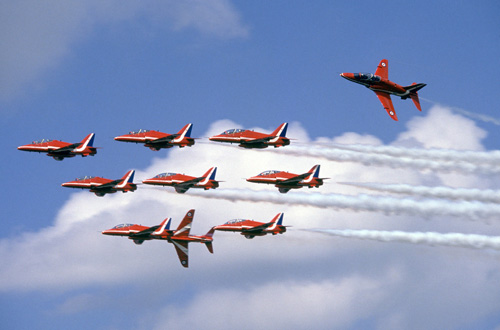 Borough of Richmond upon Thames. The flyover will mark 80 years since Charles De Gaulle's historic speech to Occupied France, which heralded the start of the French Air Force. President Macron's visit marks an important anniversary for our closest European ally.
The flypast, taking off from RAF Brize Norton in West Oxfordshire at 4.41pm, will cross into our borough from the direction of Weybridge and then should fly over Richmond Park at approximately 4.58pm heading for the scheduled 5pm flypast at Buckingham Palace.
The flyover is expected to consist of 18 aircraft; nine Red Arrows and nine PAF.
The event has been made all the more poignant today after it was announced that 'Forces Sweetheart' Dame Vera Lynn had died at the age of 103.
View our complete archive of back editions dating from 11th November 2016 HERE