Motorised Scooter User Wielding 12-Inch Blade Chases Man from Twickenham Green
On Sunday evening, around 8.15pm, a young man crossing Hampton Road, by Twickenham Green, was startled by a man on the pavement riding an [illegal] motorised scooter. The pedestrian shouted at the scooter rider however, the scooter user's response turned into a nightmare when he stopped and suddenly pulled a knife with a 12-inch blade from his rucksack.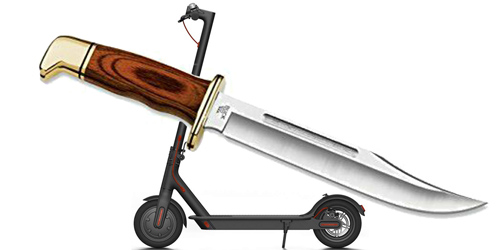 The terrified man ran as fast as he could, leaving his sandals in the road and headed barefoot to First Cross Road, Twickenham Green with the knifeman giving chase. The knifeman looked back and realising his scooter was lying in the middle of the road returned to it and then 'scootered' down the pavement towards Fullwell, passing within a foot of a shocked resident who had witnessed the whole incident.
Luckily the pedestrian escaped, but concerned residents who had seen the terrifying incident were able to give evidence to the police who are looking for the assailant following a 999 call.
The Twickenham Green area has become of concern to local residents with reports of excessive drinking and anti-social behaviour. A number of complaints have already been made to the police via 101 and 999. Residents commenting on those publicly urinating have been threatened and verbally abused.
If you see anyone who you believe is acting in an anti-social manner please do not speak to them but make a report via the 101 phone line. Local residents have been threatened in the area of Twickenham Green and the bordering roads of Strawberry Hill by people attracted to the area by off-sales at local public houses such as the Sussex Arms and the Sainsbury's supermarket on Twickenham Green; of course, these outlets for alcohol sales are by no means exclusive.
View our complete archive of back editions dating from 11th November 2016 HERE