Sainsbury's respond to the Council's calls to limit the sale of alcohol in the borough's antisocial behaviour hotspots
From Wednesday 22 July the Local Sainsbury's at Richmond Station and Twickenham Green temporarily stopped selling alcohol after 9pm.
This is in response to calls from the Council for supermarkets to do more to help tackle the recent increase in antisocial behaviour in the borough, particularly in areas such as Richmond Green and Twickenham Green. The measure will remain in place until the end of August 2020 and the situation will be monitored throughout this period.
Cllr Gareth Roberts, Leader of Richmond Council, said: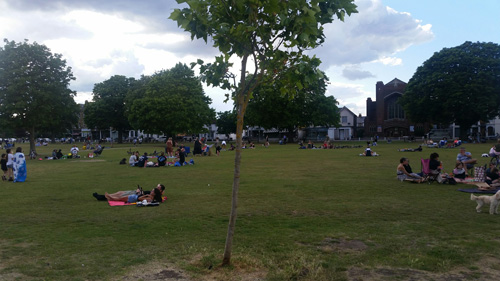 "This is a very welcome step from Sainsbury's. Alcohol has been a major contributory factor to late night anti-social behaviour in the borough; limiting the availability of supply close to hot spots should have a positive effect on discouraging late night gatherings and the associated problems of public urination, littering and noise.
"Residents have told us that they think stopping the sale of alcohol at 9pm will have a positive effect and I am pleased that Sainsbury's has been the first retailer to step up to the plate and offer this change, albeit on a time limited basis.
"I want to thank Sainsbury's for this public-spirited move. I know it may cause slight inconvenience for some, but I hope it will make a real difference to tackling anti-social behaviour on our greens. I now want Tesco to follow suit and do the same. Particularly the Tesco Express located near to Twickenham Green and the Tesco Metro in Richmond Town Centre."
A spokesperson from Sainsbury's said:
"We are committed to supporting the communities that we serve and will keep this temporary measure under review in partnership with the council."
After the public meetings in June and to help tackle the issue of public urination, the Council increased the payment to those businesses who join the Community Toilet Scheme for three months – which means they agree to open their toilet facilities for non-paying customers. 
Additionally, all cafes, pubs and restaurants have been reminded that if they are currently open for business and have customer toilets, then these should also be open.
Officers are also investigating the possibility of opening new public toilets in both Town Centres.
The Council is eager to work with businesses to ensure that sales of alcohol are carried out responsibly. However, we will not hesitate to take proportionate action against any retailer selling alcohol in breach of their licence or where it causes antisocial behaviour or public nuisance.
View our complete archive of back editions dating from 11th November 2016 HERE