Feeding deer is the opposite of kind, says The Royal Parks
The Royal Parks is reminding visitors to Richmond and Bushy Parks that deer are wild and unpredictable animals, following a resurgence of deer feeding by the public post lockdown. To help combat this worrying trend, the Volunteer Ranger Service, which was suspended during the pandemic is being gradually brought back to focus on the issue.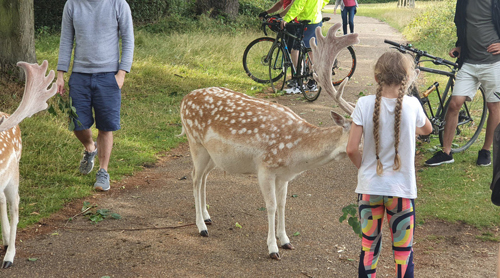 "By feeding the deer you are teaching them to approach humans for food, which is dangerous for all visitors," explains Adam Curtis, the Assistant Park Manager for Richmond Park. "The deer roam free and we want them to enjoy a life that is as wild as possible, however they should be enjoyed from afar, not harassed by visitors shoving branches, or human food, in their faces."
The herds of deer in both parks in London are wild and do not require feeding from the public. They are herbivorous, so feed on grasses, leaves and shoots of trees, and other woody plants. The two parks, which have a combined size of 3,600 acres, have an abundance of natural food suited to the deer's nutritional needs.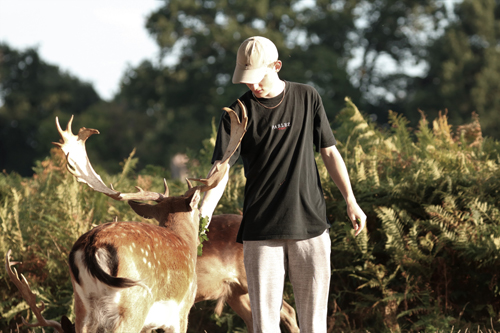 The special grassland habitat, that is protected by law, depends on deer grazing and the parkland trees have a distinctive browse line as the deer eat all the leaves and twigs growing below about 1.5metres. Deer grazing also prevents tree seedlings from growing, keeping the grassland open.
Jo Haywood, who leads the Volunteer Ranger Service for The Royal Parks said: "We understand that some visitors are well intentioned, but unfortunately feeding the deer is the opposite of kind. We've seen examples of deer being fed crisps, sandwiches and even in some cases fizzy drinks. Unfortunately, some deer even associate plastic bags with food and will consume these bags in their quest for a tasty treat. In extreme cases this plastic can block their digestive system, condemning them to a lingering death from starvation."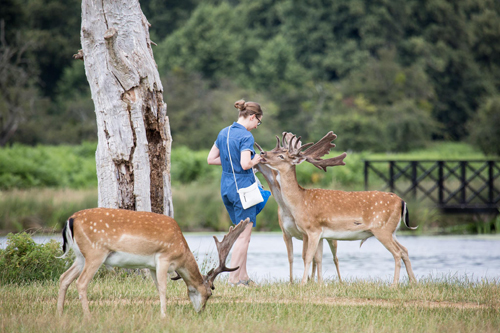 "The Rangers will be informing visitors of why feeding deer is dangerous and also sharing messages from our Summer of Kindness campaign which asks visitors to Enjoy the Parks, Respect the Environment and Be Kind to Others."
When visiting Richmond and Bushy Park, visitors should practise deer safety by:

Keeping a minimum of 50 metres from deer
Not touching or feeding the deer
Staying alert. Deer are wild and unpredictable animals
For more information on the Summer of Kindness Campaign visit:
https://www.royalparks.org.uk/home/bekindtoyourparks
For more info on Volunteer Rangers visit:
www.royalparks.org.uk/rangers
Top photo: Children feeding deer in Richmond Park - 2019 credit @twickerman
Middle photo: Feeding Deer Bushy park 2019 Credit J Walker
View our complete archive of back editions dating from 11th November 2016 HERE