Man Arrested with Offensive Weapon
on Twickenham Green
Update 27th August
Further to the article below, published yesterday 26th August, the incident has been clarified by the police who state:
"On Wednesday 26/08/2020 evening at 7:30 pm Police received a call to a fight on Hampton Road. Police attended and one of the 2 suspects were arrested for possession of an Offensive Weapon and Affray. The victims did not require any first aid. CAD 6638/26AUG20".
The Tribune is pleased that there was no stabbing last night, although it is still alarming that one of the suspects was "arrested for possession of an Offensive Weapon".
The Tribune would like to point out that the original story was based on eyewitness reports (one of whom is a prominent and well-known member of the Twickenham community) and the Tribune clearly stated that 'The details are as yet unconfirmed by the police'.
A local resident added today "It is very worrying that there are people on the Green with offensive weapons; how can I feel safe walking my dog on the Green in the early evening?"
Previously, on 5th July 2020, a man by Twickenham Green was chased by another wielding a 12in knife (CAD 7920/5.7.20).
Original article
This evening a local resident looked out of her window and saw an ambulance with flashing lights parked in Hampton Road next to Twickenham Green, around 8pm (Wednesday 26th August).
At 8.20 pm an eye-witness sent a text informing the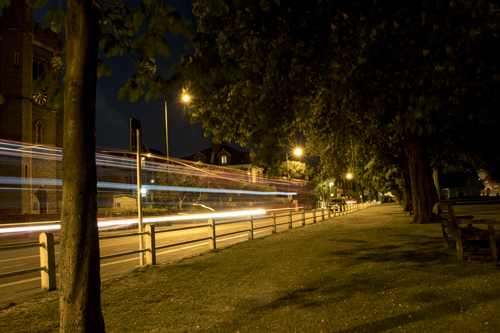 Twickenham & Richmond Tribune of four police cars dealing with what was thought to be a stabbing on Twickenham Green. Police dogs were also on site.
At 8.36pm a resident emailed the Twickenham & Richmond Tribune stating "Stabbing on Twickenham Green tonight police cars everywhere".
It is understood that two youths were apprehended by the police.
The details are as yet unconfirmed by the police.
This only goes to show how the anti-social behaviour on Twickenham Green has escalated with drinking and drug taking on Twickenham Green over the last year or so. Residents have constantly complained to the Council; when a member of the Tribune staff saw a man with a twelve-inch knife chasing another man down First Cross Road in the summer a local councillor said that this should not have been reported in the Tribune.
Tonight's witness said that it seems as though Twickenham Green is "becoming lawless".
Surely this is time for the Council to act to protect residents?
Photo by Berkley Driscoll
View our complete archive of back editions dating from 11th November 2016 HERE