LBRuT prepares plans for possible
Compulsory Purchase Order on
Diamond Jubilee Gardens
The London Borough of Richmond upon Thames plans for a Compulsory Purchase Order on Diamond Jubilee Gardens, leased to the Twickenham Riverside Trust for 125 years in 2014
Twickenham Riverside Development - An updated report on the Twickenham Riverside Development is being presented to the Finance, Policy and Resources Committee on 16th November. The report includes putting in place provisions for the council to use Compulsory Purchase Order powers. The Tribune understands that the CPO powers may be used to acquire the Diamond Jubilee Gardens if the Twickenham Riverside Trust does not toe the council's line and resists the council's development plans for Twickenham Riverside. (Twickenham & Richmond Tribune Edition 209)
 
This report offers the Committee an update on the project's progress and next steps. It also gives details and seeks approval, in principle, for the use of the Council's compulsory purchase powers to facilitate the delivery of the scheme.

In February 2020, the Finance, Policy and Resources Committee of the London Borough of Richmond upon Thames (LBRUT) ratified the decision to appoint Hopkins Architects and their sub-consultants to take forward their plan for Twickenham Riverside  ... but Hopkins may come to rue the day  - like well-known architects before them  -  that they had taken part in the [RIBA] design competition for Twickenham Riverside.

Cllr Gareth Roberts, the leader of the Liberal Democrat administration of LBRuT and would-be member of the London Assembly, is not steeped in Twickenham's history. So, Roberts is determined to be the one to tame Twickenham Riverside with its saga of failed proposals (see Edition 155 Pp 11 to 13). However, the Twickenham Riverside "development area" includes the much-loved Diamond Jubilee Gardens, a public park, which is leased to the Twickenham Riverside Trust; a lease for 125 years granted to the Trust in 2014.

Now the gloves are off.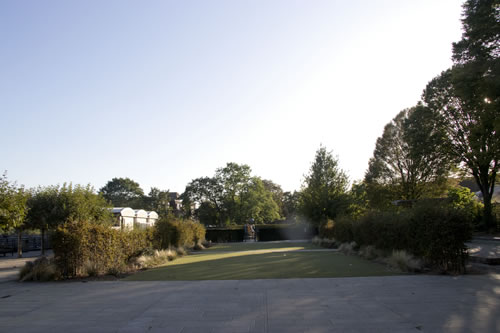 This started with the LBRuT administration's refusal to take on board the views of a Local Stakeholders Reference Group (SRG) which they, themselves, appointed and it now seems that all members of this Council appointed group are unanimously opposed to the latest Hopkins' plans for Twickenham Riverside.

The report to the Finance, Policy and Resources Committee is thinly disguised as a method of breaking the charitable Trust tasked to look after the Diamond Jubilee Gardens, a public park - one of the "parcels of land" which also includes properties that have leases expiring within the next eighteen months.

Compulsory powers require justification of the public interest to be considered by the Secretary of State. The Council must demonstrate a "compelling case in the public interest". The report states that to prepare the Order will cost £35,000 and if the Council goes ahead with a Compulsory Purchase Order the cost will be £250,000. The Director of Resources stated that there is a budgetary provision of £4.46 million in the Council's capital programme for the design and delivery of Twickenham Riverside which does not include the potential full costs of a Compulsory Purchase Order.

View the full report HERE
View our complete archive of back editions dating from 11th November 2016 HERE