Twickenham Riverside: Complete the council's questionnaire by Wednesday 3rd February
The council's Twickenham Riverside 'consultation' ends on Wednesday 3rd February.
Make sure your voice is heard and complete the online questionnaire BY the end date.
You can view the council's proposals and complete the questionnaire at the following link:
https://www.richmond.gov.uk/twickenham_redevelopment_background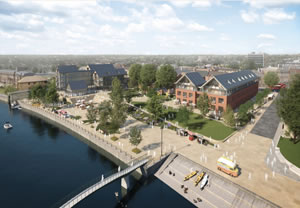 The council intends on pushing forward with its lacklustre plans and submitting a planning application this Spring. The questionnaire offers you the opportunity to say what you want on Twickenham Riverside, such as boathouses, a proper town square, activities, a Lido etc.
You may be interested to see some letters from residents, about the council's plans, published in the latest edition of the Twickenham & Richmond Tribune. You can see these at the following link:
https://twickenhamtribune.com/PDF/Twickenham%20Tribune%200221.pdf
You can see the latest Twickenham Alive concept video for the riverside at the following link:
https://twickenhamlido.com/index.html
View our complete archive of back editions dating from 11th November 2016 HERE