RIP Anthony Mumford
By Shona Lyons
It is hard to believe that just 8 days ago, Tony the cobbler who ran his shop Toes and Knees was on his way home on his scooter. We often saw him going home as he took initially the same route as us, along Kings Street & Heath Road and then onto Twickenham Green where he could park his car for free. I didn't know that. I thought he lived near the Green perhaps, as I often saw him at the start of Heath Road as I do my evening shop at about the same time, after work and before I go home.
That journey to the Green is just a few minutes and it is just so unfortunate that on that fateful evening Tony somehow hit a car or the car hit him, I don't know which. I think the enquiries are on -going. He didn't wear a helmet & the injury he sustained was fatal.
All I know is that evening my dad and me went together to Marks and saw that one side of Heath Road was closed to traffic and a police car was across the width of the road stopping anything getting passed.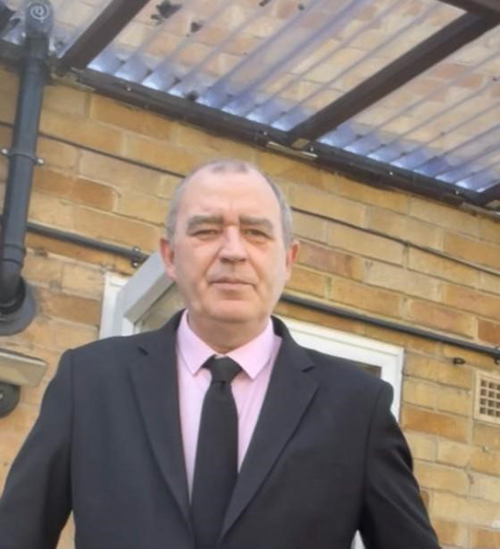 We asked the police what had happened, they just said that there had been an accident. Then the air ambulance passed us & as I looked up at the helicopter my phone rang, and a fellow trader told me that the police had come to Church Street asking if anyone knew Tony's next of kin.
It doesn't seem possible that this all happened just 8 days ago and that I won't see Tony on his way home anymore.
In the week that has passed, we saw after the second day that the door to his shop was open and found his stepson, Mick and his partner Cheryl there trying to make sense of everything, and give the clients their shoes etc. It was all very surreal as I suppose this kind of situations probably often are. I saw how upset they were, and Cheryl seemed inconsolable. I didn't know what to do. I gave her my number and told her to call if she needed anything.
But as soon as I got to the office, I realised that maybe I could help her by setting up a crowd funding page as I felt it must be such a bewildering situation for her wondering how she will cope with Tony's recovery and keeping the shop open etc. I thought that maybe if we could help her financially get through the next few months at least that might ease the anxiety for her.
It was very easy and, in a few minutes, I set it up. I told her first and she agreed it would help. Bruce went quickly to the shop to see if she had a photo I could use. It was all very rushed really and emotional, and she just quickly handed us a picture someone had painted of him in the shop which he had really treasured. I didn't look on the back, but I have since been told by the painter that apparently it had her details on the back. I just quickly scanned it and handed it back and set up the page and within minutes the donations and well wishes were flooding in.
I always enjoyed going to Tony's shop and often had some funny chats with him. I always enjoyed his very dry humour.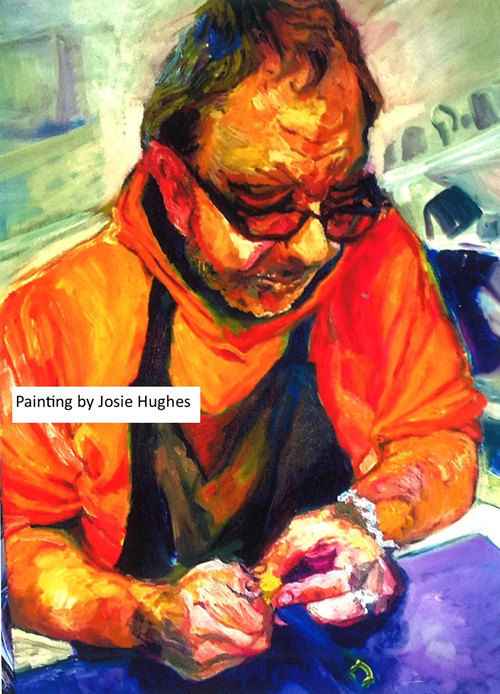 He often helped me with keys, locks and even fixing things and often charged me very little. We actually had a bit of an argument recently as he could be a bit cranky and he didn't like the street being pedestrianised and when a few months ago I wanted to drop off some very worn shoes to his shoe recycling he got a bit cross and told me that he wasn't doing it any more as the van wouldn't come and collect now the street was closed. I tried to reason with him, and asked him if he didn't think that the road was now so much more pleasant for everyone without huge juggernauts hurtling down it day and night & that other deliveries were possible etc and maybe they could come earlier or even borrow a trolley from me etc but he was just cross and shouted at me and to be honest I hadn't gone to his shop since then, until this all happened.
But I always liked him and still liked him and it shows from all the notes that people have left on the Just giving page how much other people enjoyed his banter and his company and actually he was really loved in the community and everyone would traipse in with their broken bits of bags and shoes and all kinds of things really and he had a well-deserved reputation for fixing it for everyone, often charging next to nothing and often with a bit of banter, humour and wit.
I think his shop was a refuge for him, a little sanctuary he had, where he could be himself and show all this kindness & humour to everyone. I think he really enjoyed his craft and used a lot of ingenuity fixing things for people. I now know that like many of us traders in Church Street, keeping the shop was often a struggle. But his partner told me that after she read all the lovely comments people had left that it just showed how much it was worth it and the pride he had in his work.
Lots of things have now happened this week. I was hoping we would raise money for his recovery and Cheryl would be able to keep the shop open for him to be able to look forward to coming back to it. But we found out soon that he was in a very bad way and probably if he had recovered, he wouldn't have been able to go back to the shop. I didn't think for one minute we would be raising it for his funeral as he has now already been taken off life support and he is no longer with us. Or is he? I think he is still here in spirit. A lot of people knew him and really liked him and we are hoping that the cortege although coming from Bracknell where he lived will hopefully be able to come through Church Street in the morning so we can all pay our last respects to him. He was a big part of our community and I have heard that George from Pulcinella and his team would like, if that happens, to organise with all the hospitality traders in the street to give everyone in the community who comes to join us, a glass so we can all have one final toast to Tony as he passes.
View the JustGiving page for Tony HERE
View our complete archive of back editions dating from 11th November 2016 HERE